GRAND EUROPE 2013 16nts/17days
ITALY | VATICAN | AUSTRIA | SWITZERLAND | GERMANY | LINCHESTEIN | FRANCE | BELGUIM | NETHERLAND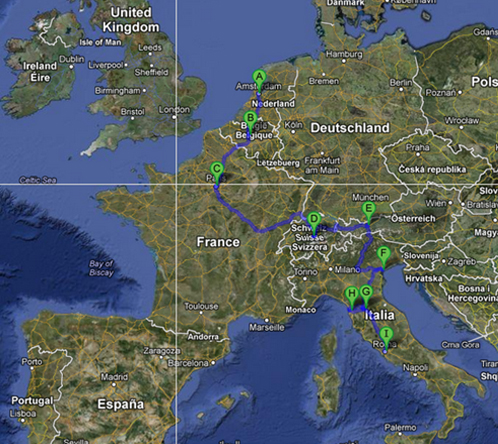 PLACES AND SIGHT SEEING COVERED
| Place | City tour |
| --- | --- |
| Rome(1 Nt) | City Tour, Vatican City Tour |
| Florence | City Tour |
| Pisa(1 Nt) | City Tour |
| Venice(1 Nt) | Vaperato (Water boat ride), Murano Glass Factory, City Tour |
| Innsbruck(2 Nts) | City Tour & Swarovski Crystal World |
| Salzburg | Mira Bell Garden, Old Town walking Tour |
| Vaduz | Orientation Tour |
| Swiss(6 Nts) | Zermatt, Optional Glacier Express Train, Geneva City Tour, Lucerne City Tour, Rhine Falls, Mt. Titlis, Zurich city tour |
| Paris(3 Nts) | City Tour, Eiffel Tower 3rd Level, Siene River Cruise, Disney 1 Day 1 Park |
| Brussels(1 Nt) | City Tour, Miniature of Europe |
| Amsterdan(1 Nt) | Kukenhof (tulip garden-Open before 15th May) City Tour Canal cruise, Wooden Shoe Factory, Cheese Factory |
| Florence | City Tour |
| Pisa(1 Nt) | City Tour |
| Venice(1 Nt) | Vaperato (Water boat ride), Murano Glass Factory, City Tour |
Meals: 16 Breakfast, 15 Lunches, 16 Dinners (Some places hot Indian Breakfast & Indian Tea)
DEPARTURE DATES:
Every Monday from Rome airport.
Day 01: Bangalore-Rome
Proceed to airport to board flight for Rome , one of the most ancient and historic city of Europe. Arrive Rome and proceed for the exciting city tour of Rome. See the Colosseum (from outside), the roman forum, the vittorio Emmanuelle monument & the famous Trevi fountain, a roman legend assures your return to Rome if you throw a coin over your left shoulder into the fountain. Thereafter proceed to Vatican City-a country inside a city. It is Catholic Capital of the world and house of pope. Visit the Christianity's Pilgrimage place-St. Peter's Basilica, the place where Pope Stays. Arrive and check in at Hotel. Overnight at Rome.[Meals: D]
Day 02: Rome-Pisa
After breakfast, we proceed to Pisa. Pisa is famous for its Fields of Miracle wherein stands the enormous marble cathedral, the baptistery & the bell tower, known throughout the world as the leaning tower of Pisa. Overnight in Pisa.[Meal: B/L/D]
Day 03: Pisa-Florence-Venice
After breakfast, we proceed to the famous city of Florence to have a short orientation tour and get a bird's eye view. Then proceed for Venice. We join the superfast auto-strada for Venice. We drive north through the Chianti wine country & the amazing scenery of the Apennines through the provinces of Umbria & the Tuscany, we arrive in one of the world's most romantic cities - Venice. Your tour starts with a boat ride on a Vaperreto to St Marks Square; later our guide will take us around this marvelous city with its arched bridges, palaces, & quite piazzas followed by a visit to the Murano glass to see the Venetian glass blowers at work. Evening we return to check in at Hotel. Overnight at Venice.[Meals: Breakfast / Lunchat the picnic spot / Dinner]
Day 04: Venice-Innsbruck
After breakfast proceed to Innsbruck. Passing the lime dolomites & breathtaking grand panoramic scenery through the Brenner Pass, we enter Austria, passing through the Austrian Alps we arrive in Wattens to visit world famous Swarovski crystal world. Later we proceed for an orientation tour of Innsbruck where we will see Basilica & the Golden Roof from outside proceed into Innsbruck. Arrive and check in at Hotel. Overnight Innsbruck.[Meals: B/L/D]
Day 05: Innsbruck-Salzburg-Innsbruck
After breakfast proceed for an orientation tour of Salzburg which is famous for its Mira bell gardens. Salzburg is also famous as the movie Sound of music was filmed there. Enjoy the walking tour of the beautiful European Old town by crossing of bridge over the river Salzach. There after continue the walking tour in the small lanes each having best brands of across the Europe like Mango, Zara, Versace, Gucci, etc. Return back to hotel. Overnight in Innsbruck.[Meals: Breakfast / Lunchat the picnic spot / Dinner]
Day 06: Innsbruck-Liechtenstein-Giswil
After breakfast we continue our journey further eastwards into the tiny but hugely wealthy principality of Liechtenstein for a stop in its capital, Vaduz. Enjoy a Steam train ride and do the orientation tour of the city. Thereafter proceed to Giswil. Check in at Hotel. Overnight at Giswil. [Meals: Breakfast / Lunchat the picnic spot / Dinner]
Day 07: Giswil-Zermatt-Glacier Express-Giswil (Optional)
After breakfast proceed to board optional Glacier Express train. The Glacier Express is the 'world's slowest express train' and travels what is one of the most beautiful stretches of railway in the world. Experience the one-of a-kind mountain landscape of the Swiss Alps on this spectacular train journey. Then visit Overnight at Giswil. [Meals: Breakfast / Lunchat the picnic spot / Dinner]
Day 08: Obwalden-Rhine Falls-Zurich-Obwalden
After breakfast, we depart for Rhine Falls, a cascading waterfall separating Germany & Swiss, take a boat ride close to the falls, and witness the serenity of the tranquil waters. On the way back orientation tour of Zurich including St. Peter's Church with Europe's largest clock face andLake Zurich (photo opportunity). Also visit the world-famous Bahnhofstrasse for shopping. Later return back to Obwalden. Overnight at Obwalden. [Meals: Breakfast / Lunchat the picnic spot / Dinner]
Day 09: Giswil-Bern-Interlaken-Giswil
After breakfast proceed to Swiss capital: Bern, travel over the old stone bridges past Bear Pitand straight through the medieval Old Town. We'll follow the 6 kilometers of arcades and the historical fountains dotting the streets and passing by the Clock Tower (Zytglogge). The Parliament building with its Parliament Square (Bundesplatz) is another landmark that can't be missed on this tour. After completing orientation tour, enjoy the walk on the walking flag street in Bern. Thereafter drive to Interlaken. Time free for shopping and optional adventurous activities like Para Gliding, Helicopter ride, Rafting, Horse carriage ride, Toy train, Bungee jumping, Sky diving, etc. Back to Hotel.Overnight at Obwalden. [Meals: Breakfast / Lunchat the picnic spot / Dinner]
Day 10: Obwalden-Geneva-Lausanne-Obwalden
After breakfast proceed to Geneva. You will visit famous landmarks like UNO building from outside, broken chair, floral clock and jet de eau which is called the tallest fountain of Europe. Thereafter proceed to Lausanne, The town is built on three hills, surrounded by vineyard-covered slopes, with Lake Geneva at its feet. Rising impressively from the opposing French lakeshore are the Savoy Alps. It is also known as sports capital of the country. International Olympic Committee has been based here since 1914. Back to Hotel in the evening.Overnight at Obwalden. Meals: Breakfast, Lunch at the sightseeing spot, Dinner
Day 11: Giswil-Mt.Titlis-Lucerne-Giswil
After breakfast proceed to Engelberg, the base of Central Switzerland's highest mountain. Enjoy optional 3 cable car rides on the way up to Titlis with that enjoy the Ice Flyer open chair ride (subject to weather permission).Time for some snow fun in snow with tubes, slides etc. Later descend & on the way back enjoy the city tour of Lucerne visiting the famous Lion Monument, ChappelBridge and beautiful Lake of Lucerne. Free time given for shopping/walking near the Lake. Later Return back to Giswil. Overnight at Obwalden.[Meals: Breakfast / Lunchat the picnic spot / Dinner]
Day 12: Giswil-Basel-Paris
After breakfast, proceed to Paris. Paris, the French Capital, is also called the fashion Capital of the world. Arrive and check in Hotel. Overnight at Paris.[Meals: Breakfast / Lunchat the picnic spot / Dinner]
Day 13: Paris
After breakfast we proceed for city tour, enjoying the scenic drive. We join our expert local guide for a panoramic tour of Paris. You will see the famous landmarks - Notre dame cathedral, arch de Triomphe, champs Elysees, place de Concorde, the opera house, & visit the Eiffel tower from the 3rd level . In the afternoon you have time to enjoy the Siene River Cruise. Later we proceed to see the famous lido show (optional). Overnight at Paris. [Meals: Breakfast / Lunchat the picnic spot / Dinner]
Day 14: Paris-Disneyland-Paris
After breakfast proceed to Disneyland Paris. You have the choice ofselecting your entry either to Disneyland Studio or Disneyland Park. Our tour guide will come & explain how to move around in the park with the freedom to go as you like so you can choose which rides or shows you want to do or omit. You will have full time at your disposal at Disneyland. Return to the hotel. Overnight at Paris.[Meals: Breakfast / Lunchat the picnic spot / Dinner]
Day 15: Paris-Brussels-Antwerp
After breakfast, proceed to Brussels, the capital of Belgium. We have a short walking orientation tour of the center of the town covering the Manneken Pis statue, the Grand Place, Town Hall and Palace of Justice. Later visit Mini Europe. Check in at Hotel. Overnight at Antwerp.
Day 16: Antwerp-Volendam-Amsterdam
After breakfast proceed for the orientation tour of Antwerp where you would see SilviusBrabo Statue (legendary Roman Soldier), Cathedral of Our Lady, Het Steen (Antwerp's Oldest Building), Antwerp Central Station view etc. Then proceed to Volendam to experience the famous Cheese Factory and Wooden Shoe Factory. Experts here show you how local people produce Cheese, wooden shoes and wines locally. It is available for the tourist to purchase as well. Arrive Amsterdam and proceed to visit Keukenhof garden (open till 20th may).Enjoy an orientation city tour of Amsterdam visiting Central Station, Damn square& Enjoy Canal Cruise. Later check in at hotel. Overnight at Amsterdam.
Day 17: Amsterdam-Bangalore
After breakfast proceed to airport to board flight for Bangalore. Tour ends on arrival.
Tour includes:
Accommodation in three star hotels on twin or triple sharing basis
All meals-breakfast, lunch and dinner
Entire road journey & sightseeing by super deluxe air-conditioned luxury coach
Services of a tour escort
Entry fees of all the sightseeing mentioned as per the itinerary
Service tax of 3.09%
Tour does not include:
Any airfare & Visa
Insurance
Porterage, tips (around 1.5 EURO per person for Driver and 1.5 EURO per person for Escort)
Any items not specifically mentioned in Tour cost includes
Note:
Company reserves the rights to change hotels, schedule & departure dates without any prior notice.
If the group consists of less than 40 passengers then there will be either choice of an alternative date or additional charges will apply.
IMPORTANT FAQ's
PLEASE NOTE THAT ONLY 1 BAG OF 20 KG PER PERSON AS CHECK IN LUGGAGE AND 1 HAND BAG UP TO 7 KG PER PERSON IS ALLOWED IN EUROPE, NO EXTRA BAGS WOULD BE ALLOWED UNDER ANY CIRCUMSTANCES.
WEATHER IN EUROPE WOULD BE MIX OF SHORT RAIN, COLD AND SUMMER
ADVISE TO CARRY THERMAL, HEAVY WOOLEN & A SMALL UMBRELLA / WINDCHEATER IN CASE OF SHORT RAINS
SPORTS SHOES RECOMMENDED FOR THE JOURNEY
SUN GLASSES RECOMMENDED FOR SNOW ENCOUNTER IN SWISS
EURO IS COMMON CURRENCY RECOMMENDED TO CARRY FOR THE WHOLE TOUR
YOU CAN BUY A EURO CURRENCY DEBIT CARD INSTEAD OF CARRYING CASH - FOR SAFETY
UNIVERSAL ADAPTER IS ADVISABLE TO CARRY FOR CHARGING OF MOBILES & CAMERAS
EUROPE IS KNOWN FOR THEFT, SO PLEASE CARRY LEAST POSSIBLE VALUABLES
EIFFEL TOWER, JUNGFRAU, GLACIER 3000 ARE THE PLACES IN TOUR WHICH WOULD BE EXTREMELY COLD
TAP-WATER IS SAFE AND HYGENIC IN ENTIRE EUROPE, WE ADVISE TO CARRY EMPTY WATER BOTTLE FROM INDIA
SHOPPING CAN BE DONE AS BELOW

CHOCLATES & WATCHES IN SWISS
CRYSTALS IN SWARWOSKI IN INSSBRUCK
PERFUMES IN PARIS
PURSES / BAGS IN ITALY (ROAD SIDE)
Useful information:
Visa requirement:
2 recent photographs ( 35mm*45 mm white background matt finishing; 80% face focus)
Original passport with minimum validity of six months. ( please provide all old passports if any)
Last three years income tax-saral form (photocopies)
Recent 6 months personal bank statements of all the passengers travelling. (photocopies)
3 Letterheads individual / company.
Pan card copy
Insurance copy
Student id proof
Business Proof (Partnership Deed / MOU of Proprietor / MOU of shop & establishment)
If salaried person, we need leave letter on company's letter head and 3 months' salary slip
More information:
Airline:
airport reporting time is 3 hours prior to departure for international flights. Proceed directly to your airline check-in counter & do remember not to carry any sharp objects or any other liquid objects that may not pass security.
Food:
food items should be declared on arrival. Pack the food items in clear plastic bags so as it is easily visible.
Weather:
| Europe & UK | Max | Min |
| --- | --- | --- |
| April | 18.0°c | 15.0°c |
| May | 26.0°c | 20.0°c |
| June | 30.0°c | 22.0°c |
Please carry a photocopy of your passport & two passport size photographs in case of an emergency.
Keep your passport, money & other valuables separate to your luggage, & even your h& luggage,put everything in a pouch with a shoulder strap so you can access it easily.
ADD ON LONDON (U.K.)
London is usually done before the beginning of the tour and joins in Amsterdam.
Day 01: Mumbai-London
Arrive Mumbai International Airport to board flight for London. Arrive London and check in hotel (check in at all hotels is after 14:00 hrs). Complete day free to enjoy the real British culture & taste of British people in the world business hub & banking hub. Overnight at London.
Day 02: London
After breakfast proceed on a panoramic city tour of London. See Buckingham palace, Westminster abbey & the houses of parliament, Piccadilly Circus, Trafalgar square, big Ben, St.Paul's cathedral & the tower bridge. Also visit the Swami Narayan temple.proceed to visit the ride of London Eyewhich gives a panoramic spectacular view of the London City. Later we proceed to the world famous Madame Tussauds wax museumwhich has the collection of all the international known personalities across the globe in their waxed structure.Evening proceed back to Hotel. Overnight in London.
Day 03: London-Harwich Port
After breakfast, we do late checkout from hotel and morning free. Later in the evening we proceed to Harwich Port to catch a ferry for Amsterdam. Overnight in Ferry.
Tour includes:
Accommodation in three star hotels on twin or triple sharing basis
Breakfast at the Hotel
Ferry accommodation from Harwich to Amsterdam in inside cabin
Entire road journey & sightseeing by super deluxe air-conditioned luxury coach
Entry fees of all the sightseeing mentioned as per the itinerary
Tour does not include:
UK visa charges and processing (Self by clients)
Airfare
Porterage & tips
Any items not specifically mentioned in tour cost includes
Entry fees of all the sightseeing mentioned as per the itinerary
NOTE:
We would operate LONDON bookings only after the clients get their visa approved
The airfare of Normal Europe series may differ if London is included as their taxes are higher
The above tour cost of London is based on minimum 15 passengers